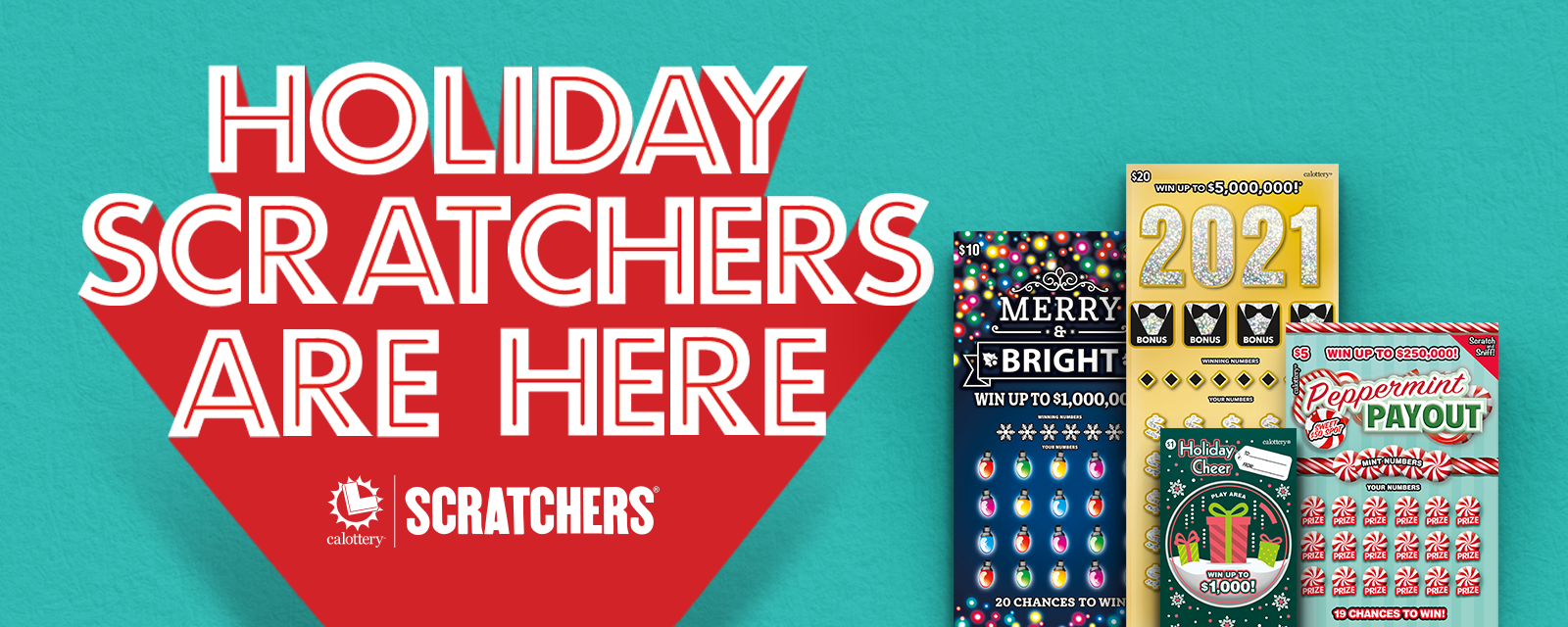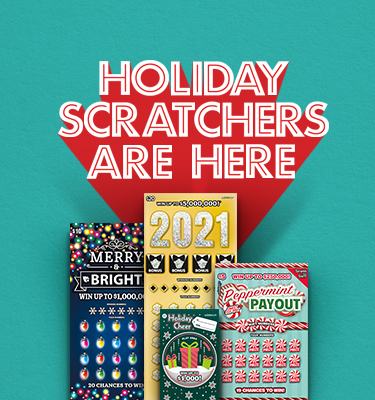 GIVE THE GIFT OF SCRATCHERS

In honor of all the people who surprised you this year with their kindness, helpfulness, and video calls full of silly face filters when you needed them most, why not surprise them back with the gift of Holiday Scratchers?
THE PERFECT GIFT THIS HOLIDAY
$1 – Holiday Cheer: These festive snow globe-inspired tickets can also be used as handy gift tags. Write in your giftee's name, and place that Scratchers ticket on their gift. Now it's a gift on a gift, with a chance for a $1,000 upgrade!
$5 – Peppermint Payout: Drumroll, please! It's California Lottery's first-ever scratch 'n sniff Scratchers! You'll never wrap a scented candle again now that you can gift this fresh, fragrant, minty ticket with the chance to win a "mint" too… a $250K payday!
$10 – Merry & Bright: There are 20 chances to win $1,000,000 on this bright little merrymaker!
$20 – 2021 Scratchers: Here's the perfect way to celebrate the New Year - 25 chances to win, four bonus spots, and a $5,000,000 prize payout to a lucky player! Gift one to someone lucky, and gift one to yourself!
SOME GIFTS ARE TWICE AS NICE
Unlike a gift card, Holiday Scratchers are a ton of fun to play AND they come with an extra chance to enter our Holiday 2nd Chance drawing! This year we're giving away bonus prizes that range from $5,000 to $50,000. Enter non-winning Holiday Scratchers into the drawing now through January 16, 2021.
SEE HOLIDAY 2nd CHANCE DETAILS
Scratchers Carousel displays one or more Scratchers Games at a time. Press Previous to scroll to the previous Scratchers game and press Next to scroll to the next Scratchers game.