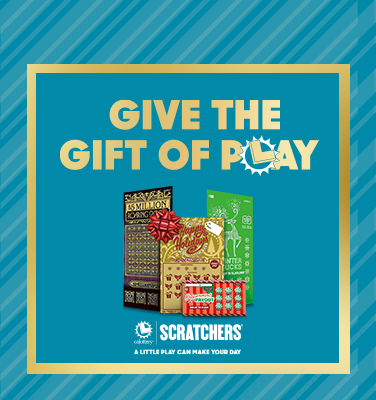 Tis' The Season To Play With Holiday Scratchers®
Just about everybody on your gift list will be jumping for joy when they receive these Scratchers®. And no wonder — they'll be opening up the opportunity to win millions! Why not get yourself an early holiday present as well? After all, the best gifts are the ones you play, and Scratchers come in all kinds of fun. Remember, Scratchers® are for those 18+ years and over.
OH, WHAT FUN IT IS TO PLAY!
$1 – Peppermint Payout: Ah, the sweet smell of success! What other ticket lets you scratch and sniff your way to $1,000? Sweeten this holiday season with Peppermint Payout Scratchers®. It's Scratch 'n Sniff with a special gift tag design and six collectible scenes to make these the perfect choice to brighten any holiday gift.
$5 – Happy Holidays: Spread cheer this holiday season with Happy Holidays Scratchers®. Discover four festive designs to brighten any gift! You will also have a chance to WIN UP TO $100,000. Play these yourself or give them to that special someone.
$10 – Winter Bucks: On Dancer, on Prancer, on Blitzen, on players! Find more bang for your buck this holiday season with Winter Bucks Scratchers®, including a bonus spot and prizes UP TO $1,000,000. Uncover the "Bonus" for a chance to win $100 instantly!
$20 – $5 Million Roaring 2022: What better way to kick off the new year than the prospect of a $5 million prize on the horizon? This new game is all dressed up for the season so ring in the new year in style!
UNWRAP THREE 2ND CHANCES THIS HOLIDAY
Not only are Scratchers® a blast to play they also give you extra ways to win! We're talking about our Holiday 2nd Chance promotion — enter your non-winning ticket numbers in any of 3 monthly drawings in November, December and January and you could take home bonus prizes totaling $75,000! Enter non-winning Holiday Scratchers into the drawing now through January 25, 2022.
SEE HOLIDAY 2nd CHANCE DETAILS
Scratchers Carousel displays one or more Scratchers Games at a time. Press Previous to scroll to the previous Scratchers game and press Next to scroll to the next Scratchers game.